Developing Custom Marketing Strategies for Campus Partners
The new director of partnership marketing, Tory Hernandez, brings 10 years of marketing experience at the UW and will drive strategy for partnership marketing and lead the team of marketing managers.
Tory Hernandez is Continuum College's newest director — the director of partnership marketing — to lead the team of marketing managers and be a better resource to campus partners by providing more consistent, consolidated communication.
Hernandez, who began her new position on August 17, "brings a wealth of knowledge in marketing, branding and media buying," states Risa De Gorgue, senior director of marketing and enrollment services.
In her 10 years at the UW as part of the University Marketing & Communications team, Hernandez led advertising for major brand and fundraising campaigns, managed the UW's annual brand awareness advertising and research, and launched new campus initiatives and partnerships.
"I'm excited about the opportunity to work with new audiences. I've never really worked within the adult learner and nontraditional student space," says Hernandez. "I've worked with traditional undergraduate marketing and donor campaigns for a long time, so it's a challenge to understand and get to know new audiences."
The new director of partnership marketing position was created to provide more dedicated resources to campus program marketing. Continuum College now has several experienced higher education marketing professionals to advise and develop custom marketing strategies for each of the degrees and special programs.
"Continuum has wanted to be a better partner to our campus partners for a long time, so one of the drivers for reorganizing the team was to allow our team to have more time to provide individual attention to our programs," says Hernandez. "My position was meant to be another face of the organization to our campus partners and be another resource for them to work with Continuum."
This partnership marketing team will work alongside the senior director of academic partnerships and the new partner success leads (PSLs) to provide strong strategic support for campus degree programs.
Continuum College's new vision for partner success requires more communication between the PSLs and marketing teams. "We want to be really integrated with the PSLs, so there's a natural collaboration that happens," says Hernandez.
The partnership strategy also involves creating tools that make it easier for campus partners to engage with Continuum College, such as materials on how to develop a new program or launch an online program. As director of partnership marketing, Hernandez will have the advantage of a broader perspective than a specific program and will be able to identify common themes across programs within a college or school.
"I look forward to being able to partner with campus," says Hernandez. "I'm passionate about the University, so this role was a great opportunity for me to continue to work with partners on campus and learn more about the academic side of the University."
Read the bios below to learn more about our partnership marketing team.
Tory Hernandez, Director of Partnership Marketing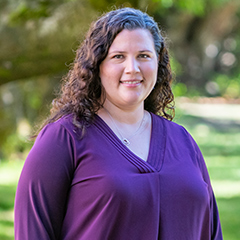 Tory Hernandez recently joined Continuum College as the director of partnership marketing, a new position intended to oversee strategy for partner marketing and lead a team of experienced marketing managers. Tory has significant marketing, branding and advertising experience gained through several years of marketing for retail businesses and spending the past 10 years at the UW in University Marketing & Communications. Tory holds a B.S. in Business Administration from the University of Arizona, is a native of Washington state and has resided in the Seattle area for the last 16 years.