Like so many college students across the nation, students in fee-based programs at the University of Washington sometimes need a bit of help paying for their education.
They also may need some guidance to navigate the world of financial aid, which can feel like a mystery at times, says James T. Flowers, associate director in the UW Office of Student Financial Aid (OSFA).
Graduate and professional students often turn to sources of funding that are different from those of undergraduates or students in state-supported programs, Flowers says. This spring, in a presentation to UW Continuum College campus partners, Flowers offered clues to help find the right financial aid for every student.
LOANS
Graduate students in fee-based programs often choose unsubsidized federal Stafford Loans as a primary source of financial aid, Flowers said. These loans are available to all students, and they're not based on need. The Federal Direct Graduate PLUS Loan, a newer program for graduate and professional students, isn't need-based either, but students must be enrolled in at least five credits and pass a credit check, Flowers said.
With any loan, students must begin repayment six months after dropping below half-time student status. Flowers said OSFA encourages students to pay loan interest while still in school, if possible, to reduce overall debt after graduation. Undergraduates may qualify for subsidized federal loans that are based on financial need.
"For some students, it creates a financial hardship to pay the interest," Flowers said.
GRANTS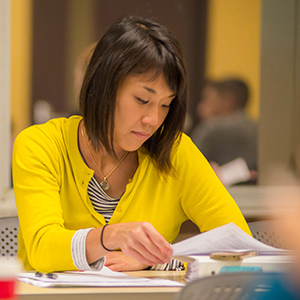 Professional graduate students aren't likely to qualify for federal grants. That's because most fee-based programs are at the graduate level, while grants usually support undergraduate study. Students in fee-based programs don't usually qualify for institutional grants either, because they're not paying state tuition, Flowers said.
However, two federal grants — the Pell Grant and the Supplement Education Opportunity Grant — are available to undergraduate students at the UW, including those in two fee-based bachelor's degree programs: the Bachelor of Arts in Integrated Social Sciences, and the Bachelor of Science in Health Informatics and Health Information Management.
"This is money that doesn't have to be paid back," he said. "We award it based upon financial need and the priority date."
COST OF ATTENDANCE
Whether loans, grants or scholarships, Flowers said the amount of financial aid offered to a student cannot exceed their cost of attendance. That's the combined amount of all educational costs related to tuition and fees, books and supplies, room and board, personal expenses, and loan fees.
Cost of attendance might also include academic-travel expenses or higher transportation costs for students who commute from home to campus or a classroom. And, while they don't live in campus residence halls, professional, distance and online students may receive funds to offset room and board, especially those who work full-time and may pay rent or a mortgage, Flowers said.
"A lot of students don't take advantage of the tax credits, but sometimes it can decrease the amount of tax burden that they'll have to pay every year."

—

James T. Flowers, Associate Director in the UW Office of Student Financial Aid
Any student seeking financial aid should begin with the Free Application for Federal Student Aid (FAFSA). It's used by the federal government to determine an Expected Family Contribution, or how much of the cost of attendance a student or student's family would be required to pay.
Flowers said military veterans or undocumented Washington state residents interested in fee-based programs can check with OSFA to see if they qualify for less well-known sources of financial aid.
And, Flowers said, all students would be wise to check their annual 1098-T forms for educational tax-credit opportunities: "A lot of students don't take advantage of the tax credits, but sometimes it can decrease the amount of tax burden that they'll have to pay every year."
TIMELINES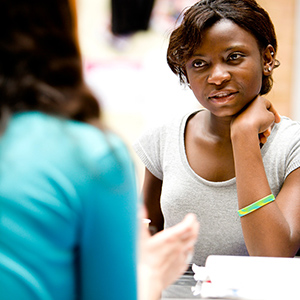 Flowers' top advice when it comes to financial-aid deadlines: Don't delay.
"A lot of students, they wait until ... I always call it the 11:59 minute," he said. "As soon as students start school, they can start applying for financial aid for the next academic year."
The FAFSA application opens every year on October 1. Flowers asked program counselors to remind students to pay attention to financial-aid deadlines, especially if OSFA needs additional documents for review.
New students are usually notified about awards via email in spring, Flowers said. Via the MyUW portal, students can see what loans or grants they're being offered, and whether they need to act to accept or reject funds.
"It'll tell them what's missing, what's needed, if they need to sign a promissory note, and some of those messages may be time sensitive," Flowers said.
Financial aid is electronically transferred to students after tuition and fees are paid each quarter, he said. Funds cover tuition, fees and housing charges on student accounts first, then any remaining funds are mailed as a check, or, if students prefer a faster option, via direct deposit.
ADVICE FOR STAFF
When it comes to federal guidelines, annual tuition rates and university fees set by the Board of Regents, Flowers acknowledged that timelines don't always align. Sometimes this means cost-of-attendance calculations and financial-aid award letters do have to be revised, he said.
He said program administrators can take a few steps to cut through confusion:
Alert OSFA whenever tuition rates for a program are set, or changed.
Submit a request for review for any new program — or if you plan to change, add or take away from any program as initially approved. He said OSFA will gather info and compare it to U.S. Department of Education criteria to determine if students would be eligible for aid.
When cost-of-attendance calculations are released, double-check for accuracy.
Check with OSFA before you distribute scholarships or other discretionary tuition assistance in the end-of-quarter rush, Flowers said: "We just ask that departments check with us before you get spending happy so it doesn't impact the student in a negative way."

STEPS FOR STUDENTS
OSFA tries to prioritize awards for newly admitted graduate and professional students, Flowers said, but some delays are unavoidable. If a student is expecting a financial-aid offer that hasn't yet arrived, Flowers said the student should reach out — OSFA knows aid can be a deciding factor as students make final enrollment decisions.
Other instances when students should contact OSFA:
If they receive new funds anytime during the year, such as a scholarship or tuition reimbursement from an employer.
If credit loads vary quarter-to-quarter. Most fee-based graduate programs are set at a certain number of credits per quarter, but when credit loads change, the amount of financial aid might change too, he said.
If students are experiencing hardships. OSFA can provide emergency aid and food-security grants, he said.
If personal finances change. Working adult students often have families and busy lives, and may need to update their financial-aid application each year, Flowers said. For example, the amount of aid offered could change if students cut back work hours to attend school, have higher transportation costs or medical expenses, or experience unemployment, job layoffs, or other changes with their spouse or children.
"Any time a student has a concern about what we can consider, speak to one of our financial aid staff to get the right answer," he advised. "You never know."